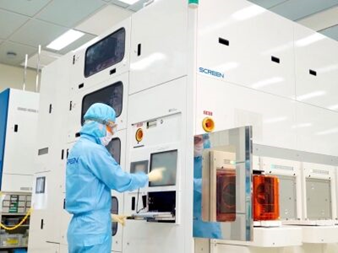 SCREEN SPE Service Co., Ltd. SCREEN SPE Service Co., Ltd.
Realized a 60% reduction in overtime despite a 20% increase in the number of sales processed compared to last year due to improved operational efficiency through the introduction of the system.
Triggered by trade friction between the United States and China, the global semiconductor shortage caused by the expansion of new lifestyles due to COVID-19 and disruptions in global supply chains has led to significant growth in semiconductor-related markets.As a domestic service company for semiconductor manufacturing equipment of the SCREEN Semiconductor Solutions Group, SCREEN SPE Service Co., Ltd. develops a wide range of businesses, from setup, maintenance, and modification services for semiconductor manufacturing equipment to the development and sales of original peripheral devices, and as a technology partner of semiconductor manufacturers, we support the manufacturing sites of key devices that will create the future.With the obsolescence of the core system, which has been in use for more than 13 years, the introduction of ServAir, an all-in-one package that includes core operations, has significantly improved operational efficiency.
Licenses Introduced
Field Service
Sales Management
Purchase Management
Inventory Management
Reason for selection
Not just a system integrator, Servair is used in-house, which contains the essence necessary for field service operations.
We figured out that 80% of our operations can be handled by Servair through prior work arrangements.
Each module is fully equipped and can be expanded to include off-site repair and maintenance contracts.
It is an all-in-one package that includes not only service operations but also core business operations.
There is a mechanism for managing delivery items that foreign packages are lacking.
Issues that existed before ServAir introduction
Obsolescence of the core system after 13 years of use.
Difficulties in maintaining functionality due to scratch development.
It only supports IE and does not meet modern security requirements such as multi-factor authentication and redundancy.
Complex business processes due to company expansion and direct sales.
There were problems with company-wide governance as approvals necessary for operations were not implemented.
Effects of ServAir introduction
Significantly reduced overtime despite a 20% increase in the number of sales (April to July 2022: 60% reduction (compared to the same month of the previous year)).
Strengthened governance by ensuring that each approval procedure is executed without omission within the business process.
Avoided local Excel and information dispersion by executing operations on core systems.
Unified company-wide operations through business processing based on the new business workflow.
Revealed old local rules and rectified them as they should be.
Changed and established user personnel's awareness of business improvement.
Expedited data aggregation and reporting through data linkage.
Interview
Repair work through direct sales became the main, and existing systems are not keeping up.
SCREEN SPE Service Co., Ltd.

Business Dept. General Manager
and IT Promotion Section Section Manager
Project Manager

Mr. Toshiyuki Sakai


We had been using a system originally built from scratch for 13 years. At that time, we mainly handled service operations via the parent company and was a core system suitable for inter-group transactions.

About 10 years ago, we began to offer repair work through direct sales, changed our business model to gradually become more independent from a service outsourcing company, and expanded the size of our company. The number of personnel involved in the service had increased, and the existing system did not keep up with the size of the company and was not able to cover the scope of work. It was a situation where only the results were entered into the system, and the end-of-month processing was performed after confirming that the numbers were correct.