 Introducing ServAir Cloud
ServAir Cloud
ServAir Cloud is a new series of ServAir. Until now, ServAir has been placed on-premises in the customer's computer room and it was used as IaaS which places the system on the cloud platform contracted by the customer.
ServAir Cloud is a SaaS type system that does not require server procurement or system installation, thus, you can start using the service immediately if you have a browser.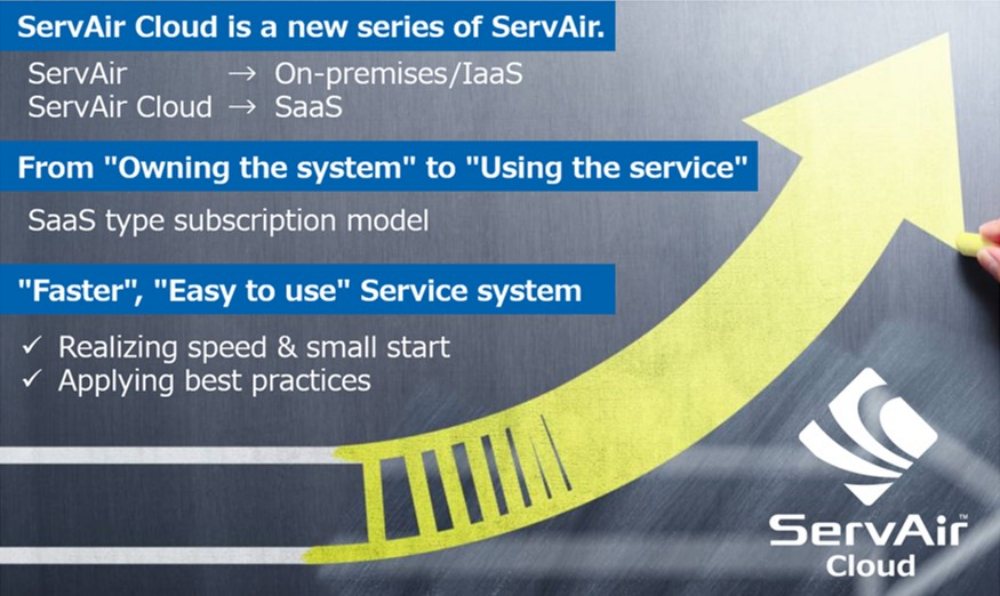 Benefits of ServAir Cloud
Introducing the benefits of ServAir Cloud.
DX conversion of service operations

ServAir is a service system best practice packed with various business know-how that can help customers promote DX conversion of their service operations.

In addition, since ServAir Cloud is SaaS, you can always carry out the business with the latest functions as it will be upgraded regularly, unlike its conventional type which required a lot of man-hours and costs to upgrade the system.
Easy to introduce with low initial cost

In the past, initial costs such as package costs, server costs, and engineering costs were required, but with ServAir Cloud, you can use the enterprise functions of the service with a subscription with minimal initial costs.

Although an installation engineering cost is required, it can be handled more reasonably and in a shorter delivery time than before. In addition, from small groups to large-scale users, you can select and use the edition that suits your business style.
Reliable cloud service

Since it is a cloud, there is no need to use overtime hours for post-processing after returning to the company. We support work styles that can be accessed anywhere, such as in-house access from outside and telework.

In addition, there is no need to arrange or install a server, so you can start using the service immediately.

Your information system department will be freed from troublesome system operations, and YOKOGAWA will back up with a full support system for inquiries about system failures and operations.