 We provide various consulting services
tailored to our customers' needs.
Introduction of our consulting services
With the advent of the DX (digital transformation) era, where IT utilization in business is advancing, the importance of IT utilization is increasing even in after-service operations.
We provide consulting services that make use of our experience of introducing the system in-house and introducing service systems to various customers.
Providing consulting services tailored to our customers
We had been introducing the system for the companies performing different types of after-sales service businesses. We have also introduced ServAir as a Service CRM in our business group, Yokogawa Group, and are using it globally.
Based on these experiences, we provide consulting services that support both business and IT.
Our members who understand the language of after-sales service and are familiar with system introduction will propose the most suitable plan for our customers, including business improvement.
For consulting services, we offer two consultations: "Before Consulting", which is conducted before introducing the system, and "After Consulting", which is performed after the system introduction.
In Before Consulting, we offer two services: the "Grand Design", in which we propose how to proceed with the system introduction suitable for the customer's business, and the "PoV/PoC service", in which we provide a trial environment for customers who are already considering using ServAir for verification.
In After Consulting, we plan to support you in measuring the effectiveness, business expansion, and business improvement after the system introduction.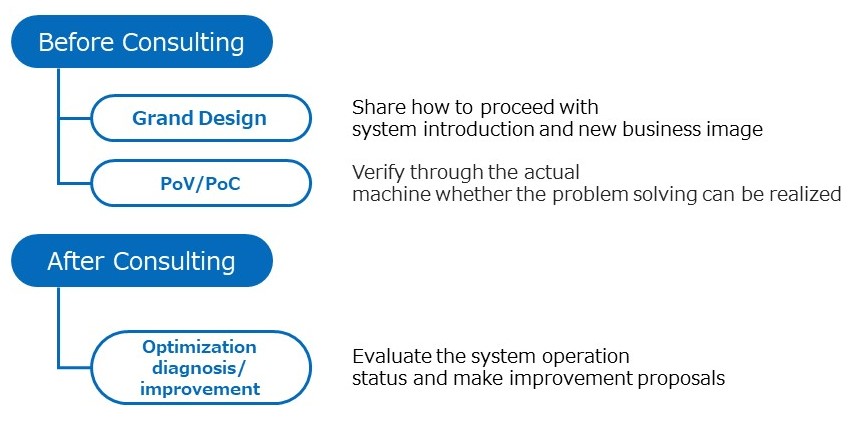 Before Consulting : Grand Design
Some customers want to proceed with system introduction, but they do not know how to proceed with business organization and system introduction, such as "Where to start with?", "How to cooperate with the other peripheral systems?", etc.
At Grand Design, our consultants, who understand the service business and have abundant system implementation experience, will listen about your current business, the issues you want to solve, the ideal situation you want to achieve, and the systems you are currently using together with other related systems, and propose the best system implementation plan for you.
Before Consulting : PoV(Proof of Value)/ PoC(Proof of Concept)
We offer PoV services to customers who are already considering the introduction of a service system and are looking for a solution to their issues and a system that will fit their company. We provide a trial environment for our customers to test some of our services in a short period of time to see if they can be applied to their actual operations.
We will provide operational support in a trial environment, make proposals to solve business issues, and help forecast the expected implementation effects after the system is introduced to ensure a more effective system implementation.
After Consulting : Optimization diagnosis/ improvement
It is important to check the situation at the site and verify the effects of improvements even after the system is introduced, for example, "Are we achieving the objectives we originally planned?" and "Are we getting results from the introduction of the system?".
By using the service system daily, the information related to service operations is accumulated, and by analyzing this information regularly, you can see the points for business improvement that were not visible before and the effects of the system introduction.
We will make proposals tailored to your needs, including points for improvement in system usage, ways to use functions, analyze accumulated data and utilize KPIs.
The ServAir concept is a system that you can keep using.
We aim to create a system that can grow together with our customers and support them from both business and system perspectives.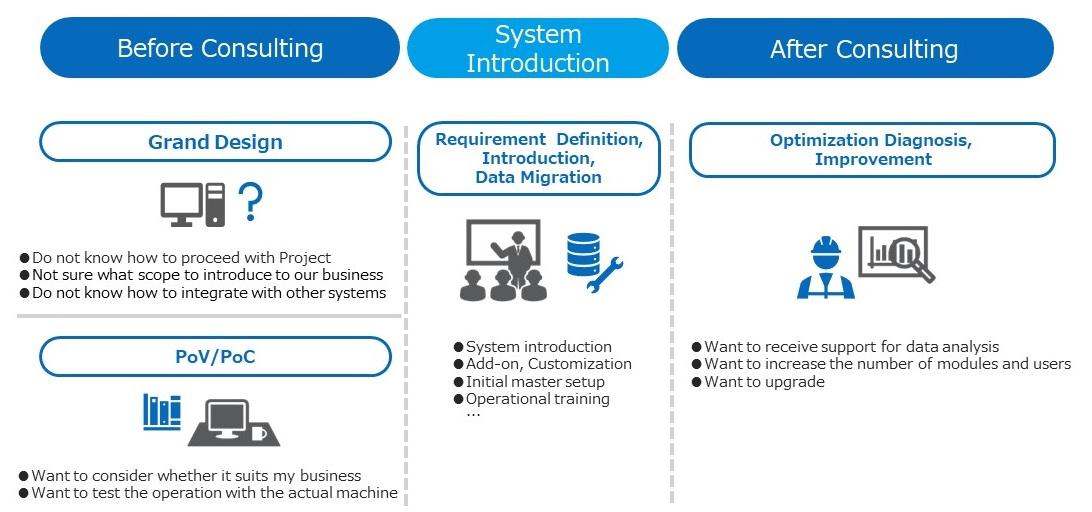 We also offer online individual consultation on after-sales service.
Please feel free to consult with us about issues related to service operations and questions about system introduction.