Introduces how to utilize the KPI
of accumulated service business data.
Service business operations review and KPI
Let's set KPIs that correspond to your company's issues and make a system for "profitable services."
Responding to business operation issues
Although inquiries and work reports can be managed in fragments, the cross-sectional data related to service operations and services cannot be viewed, thus, it is difficult to understand where the issues are, and it is not possible to dig deeper into those issues.
When an inquiry or complaint call comes in, one has to visit the customer to check the product or phenomenon, assign personnel on the whiteboard, and manage the work report on paper. From this situation, isn't there such a problem where you can't immediately grasp the product/part to be repaired, don't know the availability of personnel, and it takes time to check the past response history?
Although many customers are aware of the issues, they are busy with their current work and have not done anything.
Setting KPIs for business operations improvement
In order to promote business operations improvement, it is necessary to visualize the target figures. We recommend using KPI indicators obtained by digitizing service data.
KPIs can be classified into quantitative KPIs and qualitative KPIs. Since KPIs are basically numerical indicators, most of them are quantitative KPIs, but there are also KPIs that are difficult to quantify, such as "Customer Satisfaction". Let's break down these qualitative KPIs into quantitative KPIs.
For example, let's break down the element of "Customer Satisfaction" into quantitative KPIs such as reduction of average response time and service delivery rate. In addition, increasing the maintenance contract rate can also be a quantitative KPI that improves customer satisfaction. The ultimate goal is to achieve the performance index, but even if you suddenly aim for it, it will not happen. Also, improving one process index does not mean that it is directly linked to the performance index.
Share multiple process indicators with members involved in service operations and aim for the final result through the achievement.
Visualize KPIs and improve service business operations
When you find a KPI, let's proceed to improve your business operations by going through PDCA.
PDCA business operations improvement using KPI
Once the KPI has been set, we will start improving business operations by going through the PDCA while monitoring the value.
With ServAir, daily data such as work contents, failure causes, and countermeasures related to after-sales service work can be registered in business flow. As a result, data is naturally accumulated and since KPIs can be displayed in real-time, there is no need to perform tasks such as listing and tabulation again, thus, the workload can be minimized.
In addition, you can go through the PDCA improvement cycle to find outliers from dashboard trends and use the results of detailed analysis to improve operations.
Visualization of KPIs enables cross-sectional monitoring of service processes, enabling detailed analysis from various angles such as service workload, service response time, service quality, service efficiency, work content, and cost.
By grasping the current situation and improving operations based on KPIs, and repeating further result confirmation and detailed analysis, after-sales service operations can be improved, wasteful costs are reduced, profit margins are improved, and furthermore lead to improvement of customer satisfaction.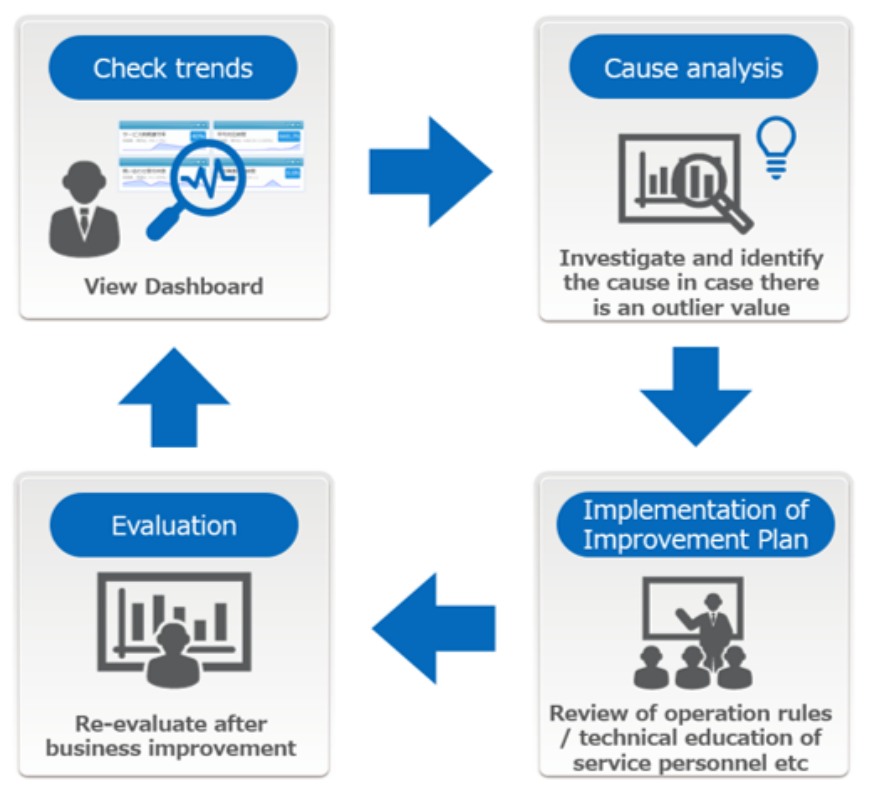 Knowledge gained from the introduction of service systems
ServAir is a system that packages the Yokogawa Group's service business system and is packed with know-how for introducing service business systems to other companies. It is designed to utilize the acquired knowledge of service system introduction, evaluate and analyze the business quality based on the accumulated information, grasp the current situation and measure the effect of business improvement.
ServAir systematically defines KPIs that contribute to sales improvement and cost reduction. In system introduction consulting, we would like to find hints for improving the business of our customers together and contribute to the improvement of the quality of service business, the growth of service business, and the improvement of product quality.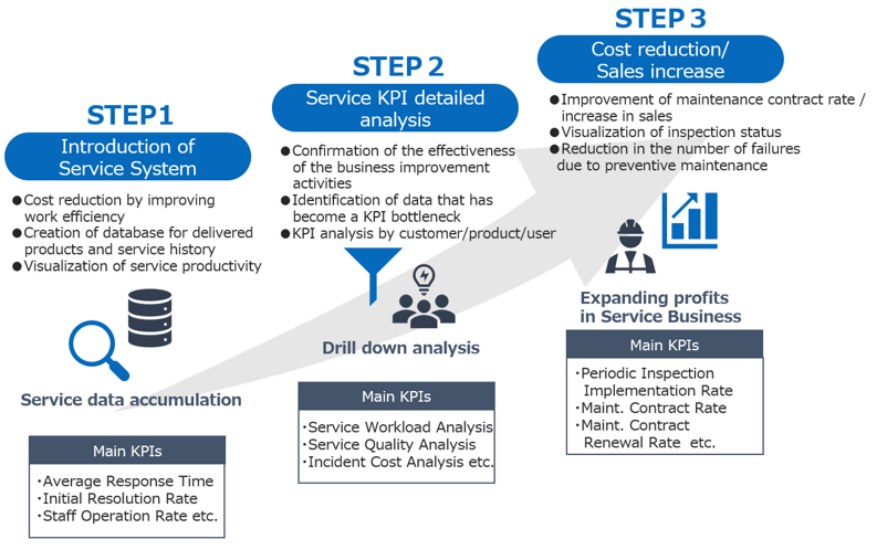 ServAir prepares KPIs for each stage, so if you use ServAir, you can immediately analyze the issues in service operations.