Here are some practical examples on how ServAir can bring benefits to the service operations.
Corporate Planning
"We introduced systems from where there were operational needs one by one, but now we have several systems and they are not optimally interconnected." "The infrastructure of the system we use is old and cannot have add-ons or be modified." Do you have concerns like these about the systems that you use being outdated?
Are you looking for ways to collect appropriate data for increasing sales from service operations whose profitability ratio are high?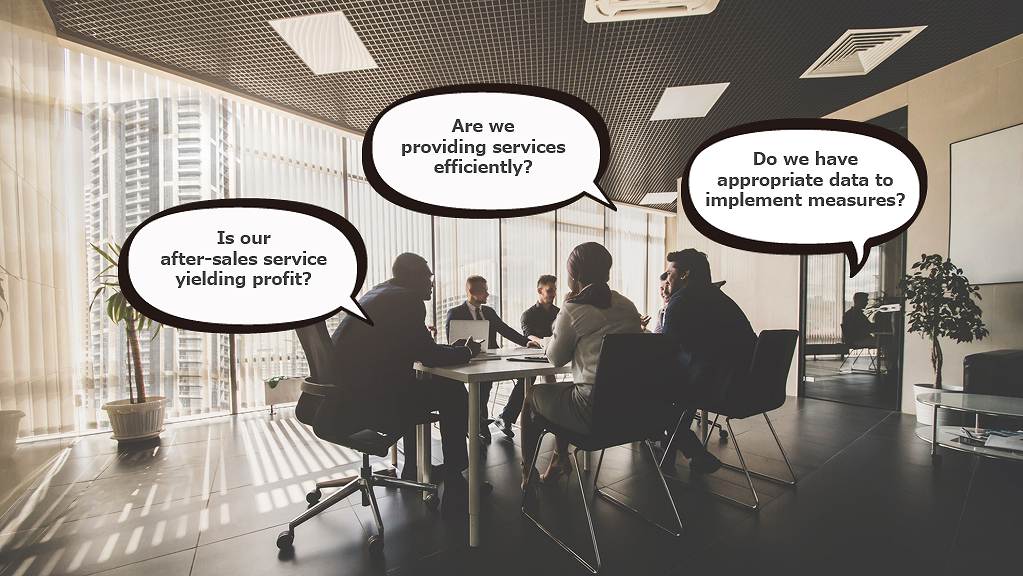 Visualizing KPI of services
We hear from our customers in the service field about issues such as individual-dependency, shortage of engineers, and aging of engineers. While being individual-dependent in service operations is unavoidable to some extent because of the nature of the work, we may propose that you review your company's service operations and consider reviewing systems for service operations as a starting point.
ServAir supports the whole span of service operations consistently from downstream processes such as call center operations, field services, off-site repairs, and periodic inspections to upstream processes such as acceptance of sales orders, purchase, and stock control. You can also choose function modules to introduce in your company, as ServAir offers modules corresponding to all aspects of service operations: field service (on-site repair), maintenance service, periodic inspection, maintenance contract, and off-site repair.
In ServAir, you can display metrics that are important in service management such as failure analysis, work analysis, cost analysis etc. in graphs in real time. Visualizing field work makes it possible to develop initiatives that cover the PDCA cycle.

Increased revenue from after-sales service
In recent years, more and more companies put forth effort in after-sales service. In today's economic environment where the global competition is ever more fierce, it is a difficult task to increase a profit ratio of a sales product, but there may be more room for better efficiency in the sector of after-sales service.
For example, in the after-sales service department at one customer's company, it turned out that approximately 40% of time spent at work is used for searching for information. This means if even 5% of this could be reduced, it leads to a substantial improvement in efficiency, and it will have a positive effect on profitability.
ServAir proposes a streamlined after-sales service operations and thus to boost profitability.