Here are some practical examples on how ServAir can bring benefits to the service operations.
Service Engineer
Many aspects of service engineers' work are not digitalized yet. In many cases, work reports are still managed on a paper basis, which makes it impossible to search for service history. Moreover, service engineers are having to go back to their offices to input the data of the work report that they provided to their customer site by paper. This duplication of work of inputting and updating information, coupled with the lack of engineers, are common causes of heavy load on engineers.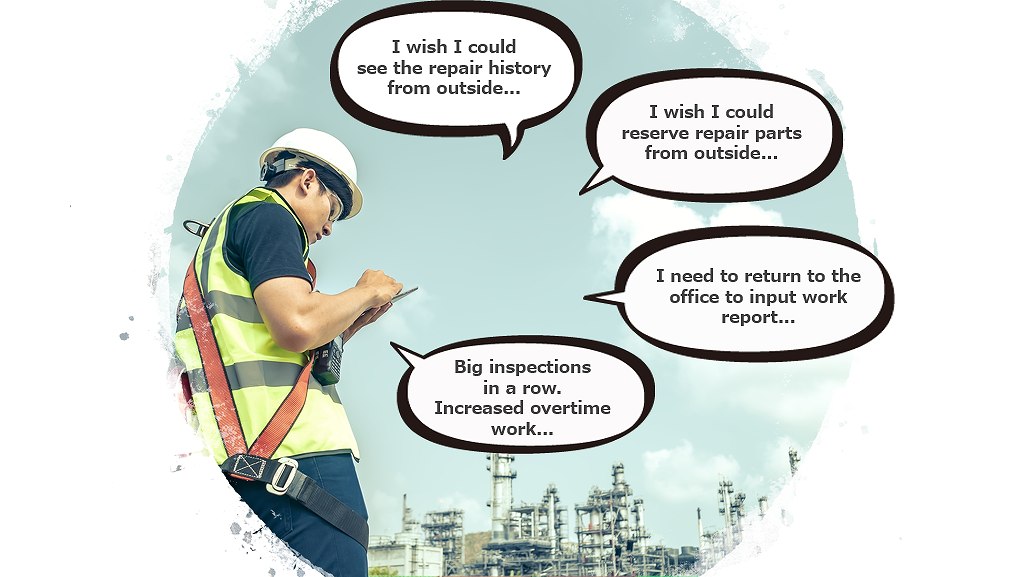 More efficient engineer work
By introducing ServAir, service engineers can use a smartphone and/or tablet to access information such as content of inquiry calls, maintenance contracts, repair history, etc. in real time, even when they are on-site. ServAir also makes it possible to reserve and secure repair parts that could be used in advance, reserve equipment, pre-check procedure manuals, etc.
When service work is completed, you can enter information such as the cause of the failure, used parts, work hours per engineer from your note PC and other mobile devices on-site. You do not need to go back to the office to re-enter those data.
You can also receive an electronic signature from the customer as evidence of work's completion. Electronic signatures are stored in ServAir database and can be output on the work report. You can obtain your manager's approval on the work report electrically through the workflow engine.

"Workstyle reforms" for engineers
By introducing ServAir, you can always access up-to-date information, so engineering work from preparation to repair work and repair report progresses efficiently.
Analyzing accumulated data from work reports enables you to improve efficiency and qualities of operations. Overtime work of engineers decreases, and "workstyle reforms" can be achieved.