Here are some practical examples on
how ServAir can bring benefits to the service operations.
Service Manager
Depending on the scale of the company and the volume of service work to be provided, the role of service managers may vary. As a systemized solution, ServAir strongly supports the coordination work a service manager previously had to figure out on their own with questions such as "Which engineers have the skills to repair this product?", "What are the necessary repair parts for this incident?" and "Can I schedule an engineer along with an inspection plan?"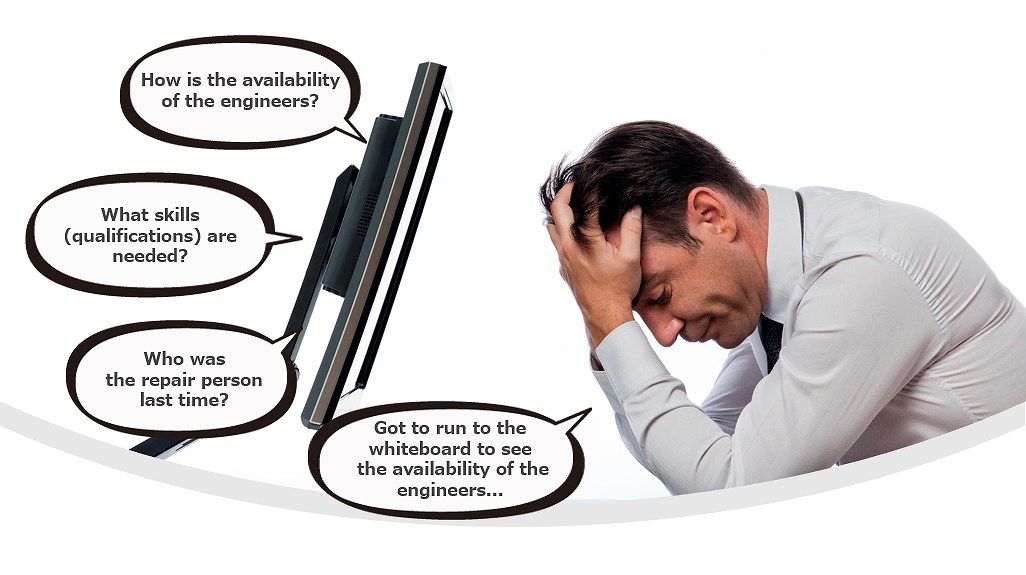 A powerful backing to service management
On ServAir, a search for engineers can be done by various criteria such as product, skills, in-charge organization, and so on. ServAir also allows you to manage information gathered not only at failure repairs but also information on inspections and off-site repairs, realizing management of engineers' schedules and assignment of staff to service agents along with an inspection plan.
In addition, since all service-related information is centrally managed by ServAir and information related to repairs is shared among service managers, engineers, and all member, operational efficiency is greatly improved and engineers' productivity is increased.

Improved productivity of engineers
By introducing ServAir, information related to service operations such as tips, knowledge and know-how which was previously individually-oriented and scattered can now be centrally managed. This allows a visibility of areas for improvement and helps facilitate to find possible solutions.
ServAir not only improves the operating ratio of engineers, but it also solves challenges in passing on of know-how, key-person dependency, and difficulty in finding successors. Many ServAir users are seeing results in improved engineer's operating ratio and an increased number of maintenance service contracts achieved by initiatives utilizing these characteristics of ServAir.