Here are some practical examples on how ServAir can bring benefits to the service operations.
Service Sales
Although it is desired to increase sales by having more maintenance contracts, service-related information are hard to collect and analyze. Do you have any troubles like below? "I cannot search customers to whom I can propose a maintenance contract." "I do not know what kind of a contract I should propose to each customer."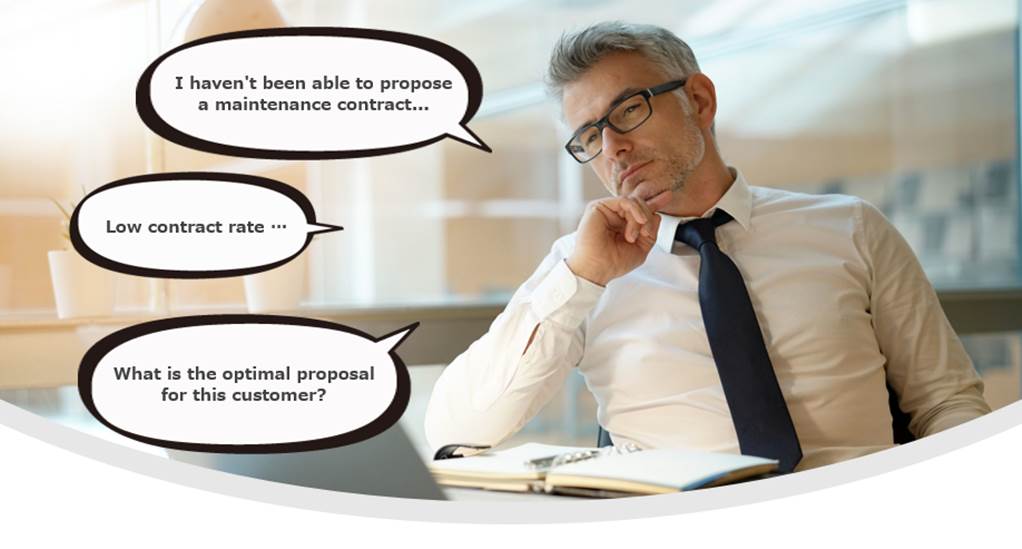 A service-specific package
Once ServAir is installed, you can manage information such as the status of a maintenance contract, target time period, target products, etc., which makes it easy for you to extract customers to whom to propose a renewal of the maintenance contract.
Judging comprehensively by each customer's past repair history, inspection history, facilities and equipment environment, ServAir makes it possible to propose an optimal contract, conscious of the customer's life cycle.
ServAir is a package specialized in service work equipped with a feature for a quotation for maintenance services that usual ERP systems do not offer. You can reuse information of the inspection plan, quotations, and past orders, which leads to increased efficiency of your sales operations.

Increased maintenance contract rate
Analyzing past service history accumulated on ServAir makes it possible to propose an optimal maintenance contract to a customer.
Contents of maintenance work such as periodic inspection, maintenance service hours, etc. can be adjusted based on trends of machine failures, etc. so that an optimal maintenance contract to the satisfaction of the customer can be formulated. Many ServAir users are experiencing increased maintenance contract rate.